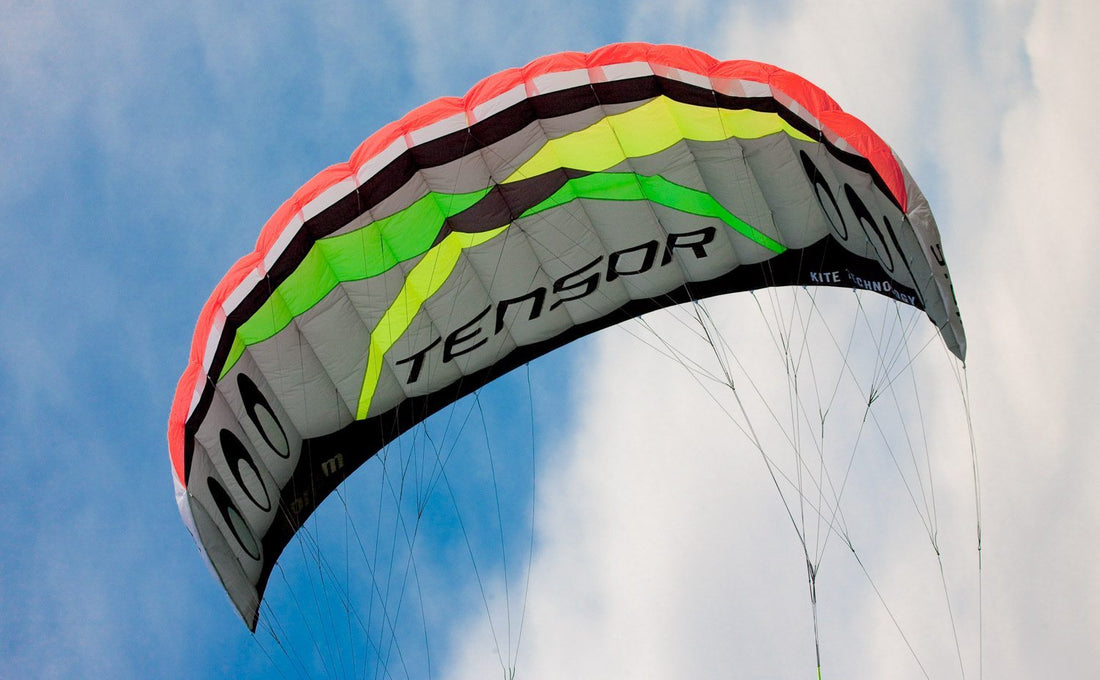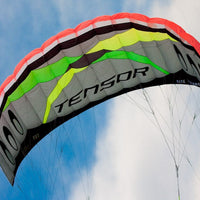 PRISM TENSOR 5.0 POWER KITE
The Prism Tensor 5.0 Power Kite is the big daddy of our three Tensor power kites, with the stump-pulling power to get you up and going on snow or in lighter winds where a smaller kite just won't get it done. It will fly easily in 2mph, start to drag you in 8mph and really pull hard in 12+, great for larger pilots, light wind areas, and kiting on soft snow where extra power is required. But be careful if you'e just getting started- the 5.0 can develop dangerous pull if the wind picks up suddenly.
Engineered to be more than just a trainer, all Tenor sizes make it simple and safe to get into power kiting with a dual-line control bar, safety leash and quick release, all set up and ready to fly. Once you've learned basic control, our innovative convertible bar system transforms into rugged quad-line handles for the extra control and maneuverability you need to take on traction sports like buggying, snow kiting and landboarding without spending another dime on your gear. Simply separate the bar at the machined aluminum center joiner and insert the two end fittings to make quad handles. Kite Killers for quadline mode are pre-installed, so just re-attach the brakelines and you're ready to ride. Handles allow sensitive control to generate maximum power from the wind, and can be used with a line between the top ends for use with a harness. In either mode, the Tensor's medium aspect wing is powerful but forgiving, with a smooth acceleration that doesn't bite and confident edge performance without collapsing like high-aspect race kites.
With all lines pre-attached and ready to fly, the Tensor package includes everything you need for serious fun in a gorgeous backpack/duffel with extra room for a second kite or accessories. Color-coded lines, handles and pigtails make setup and adjustment easy, and the multiple safety systems mean you can kill all power on the kite instantly just by letting go of the bar or handles. In a real emergency, the control bar quick-release lets you jettison kite and bar altogether.
Built to paraglider standards from silicone coated nylon, the wing includes reinforced inlets, dirt-outs to easily remove sand from the cells, and stitched Dyneema bridles to reduce snags and hold optimum wing shape under load. Our Power Trim system allows 3 easy bridle settings to adjust power and performance in different winds. Flying lines are precision-measured and stretched Modulus Spectra for quick response and long life. We also include a stainless ground stake and sheath to secure the kite, and a comprehensive, well-illustrated flight manual that'll get you flying quickly and safely.
Features:
Largest size for light to moderate winds, soft snow, and bigger pilots
Forgiving edge handling and controllable acceleration for land-based fun and traction sports
Dual-control bar converts to quad handles with no additional gear needed
Power Trim adjustable bridle with three power settings for different winds
Ready to fly with convertible bar and safety systems pre-installed
Paraglider quality construction and materials
Skill Level:
 Beginner - Intermediate
Wing Span:
 173" (440 cm)
Sail Area:
 53.8 sq ft (5.0 sq m)
Wind Range:
 5 mph + (8 kmh +)
Speed:
 Moderate
Pull:
 Very Strong
Sail Material:
 Ripstop Nylon
Cells:
 18
Flying Lines:
 65' x 300 lbs (19.8 m x 136 kg), 65' x 500 lbs (19.8 m x 226.8 kg)
Free Shipping on any order $79+
$6.99 Flate Rate Shipping on everything else.
Orders are shipped via UPS & USPS.
Most orders ship within 48 hours.
We ship Monday - Friday direct from our NJ based warehouse.
(No P.O. Boxes, please!)
Pro Kites USA™ is the leading provider of High-Quality Kites & Accessories online. In operation since 2014, we are extremely proud to have helped more than 75,000+ kite flyers new & old experience the simple joy of flying a kite.