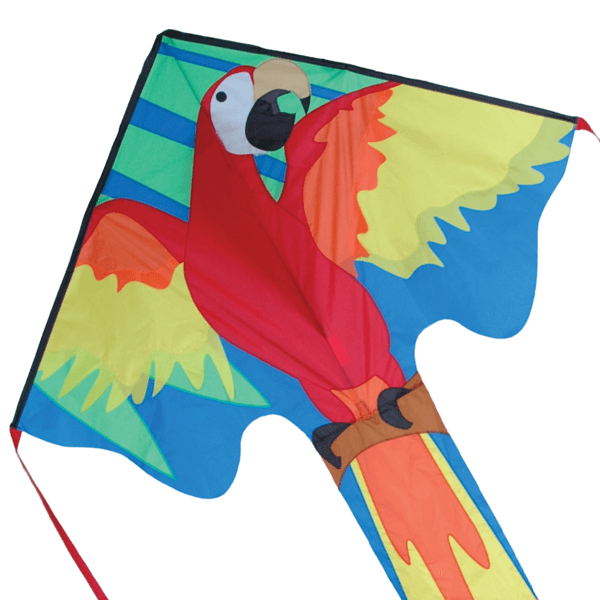 46" Macaw Easy Flyer Kite
The 46" Macaw Easy Flyer Kite is a vibrant and eye-catching kite that showcases the beauty of a majestic macaw in flight. With its stunning design, this kite is sure to make a statement in the sky.

With its vibrant colors and graceful flight, the Macaw Easy Flyer Kite is perfect for outdoor adventures, beach outings, or simply enjoying some quality time in the park. It's a delightful way to add a touch of nature and excitement to your kite-flying experience.

So, let your imagination soar with the Macaw Easy Flyer Kite. Experience the joy of flying a beautiful macaw in the sky and create unforgettable memories with friends and family. 
Skill Level: Beginner
Recommended Age: 5 -Adult
Size (W X L): 46 x 90 in. / 117 x 229 cm.
Wind Range: 5 ~ 18 mph
Fabric: Nylon
Frame: Fiberglass
Line: Includes 300 ft. 30 lb. Test Line
Free Shipping on any order $79+
$6.99 Flate Rate Shipping on everything else.
Orders are shipped via UPS & USPS.
Most orders ship within 48 hours.
We ship Monday - Friday direct from our NJ based warehouse.
(No P.O. Boxes, please!)
Pro Kites USA™ is the leading provider of High-Quality Kites & Accessories online. In operation since 2014, we are extremely proud to have helped more than 75,000+ kite flyers new & old experience the simple joy of flying a kite.
kite
They work great,I would for sure buy more!!
Terrific. The five-year-old who got the kite for his birthday was very excited. It flew like a bird!
So much fun!
I bought this kite for my Dad for Father's. After my Mom's passing in January my Dad fell into a depression. Since he's been flying his kite his spirit is soaring as well. He love his kite. Every where he go and fly it, people stop and stare in amazement. Thamk you so much! We are very satisfied.
"Easy flyer" is a very accurate description!
Not only are these kites beautiful, they are very easy to get into the air. On a low-wind day, I easily got mine up with a quick run. On a windy day, all that is needed is a quick toss up in the air and a release of string. My six year-old loves his as well!
Kite for A 7-Year Old
This was my first ever online kite purchase and I don't regret it. I let go of our old kite accidentally and was forced to buy another one right in the middle of pandemic lock-down. All good kite stores were closed. Wife found this site. Kid picked the kite from the pictures on their website. I paid. Just a few days later (less than 5 I think) package arrived. Next day, wind was blowing through Windy City and the kite flew like a bird.
Pros: Fast delivery; beautiful design; easy to assemble; strong and flexible; super easy to fly even for a 7-year old kid; the included line was twice as long as any other I ever had
Cons: I can't think of any
THANK YOU!