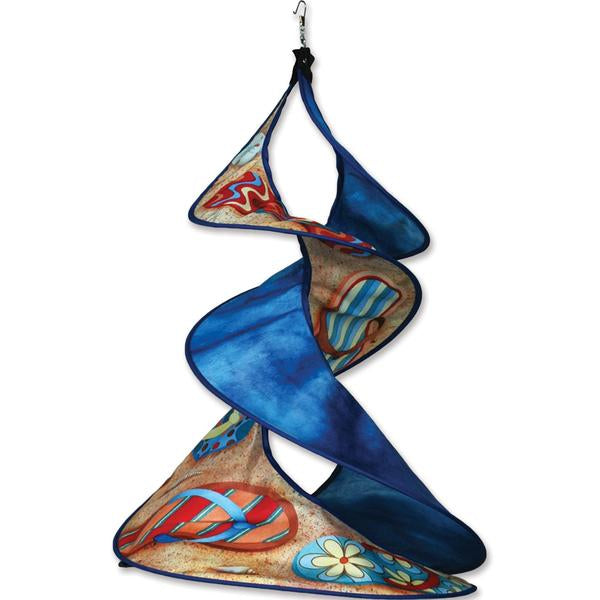 Introducing the Flip Flops Twin Spinner, a charming and whimsical addition to your outdoor decor. This delightful spinner captures the essence of a sunny beach day, featuring a playful design of flip flops in the sand.

The Flip Flops Twin Spinner showcases a vibrant and colorful display that is sure to catch the eye. The two spinners, adorned with bright flip flop patterns and colors, rotate gracefully in opposite directions, creating a mesmerizing visual effect. As they spin in the breeze, they mimic the carefree movement of flip flops on sandy shores, adding a touch of beachy charm to any outdoor space.

Bring a slice of beach paradise to your outdoor oasis with the Flip Flops Twin Spinner. Whether you place it in your garden, on your balcony, or by your poolside, this delightful spinner will evoke the feeling of a beach vacation and add a touch of summer fun to your surroundings. So kick off your shoes, relax, and enjoy the whimsical charm of the Flip Flops Twin Spinner as it dances in the breeze.
Size: 16 x 26 in.
Free Shipping on any order $79+
$6.99 Flate Rate Shipping on everything else.
Orders are shipped via UPS & USPS.
Most orders ship within 48 hours.
We ship Monday - Friday direct from our NJ based warehouse.
(No P.O. Boxes, please!)
Pro Kites USA™ is the leading provider of High-Quality Kites & Accessories online. In operation since 2014, we are extremely proud to have helped more than 75,000+ kite flyers new & old experience the simple joy of flying a kite.