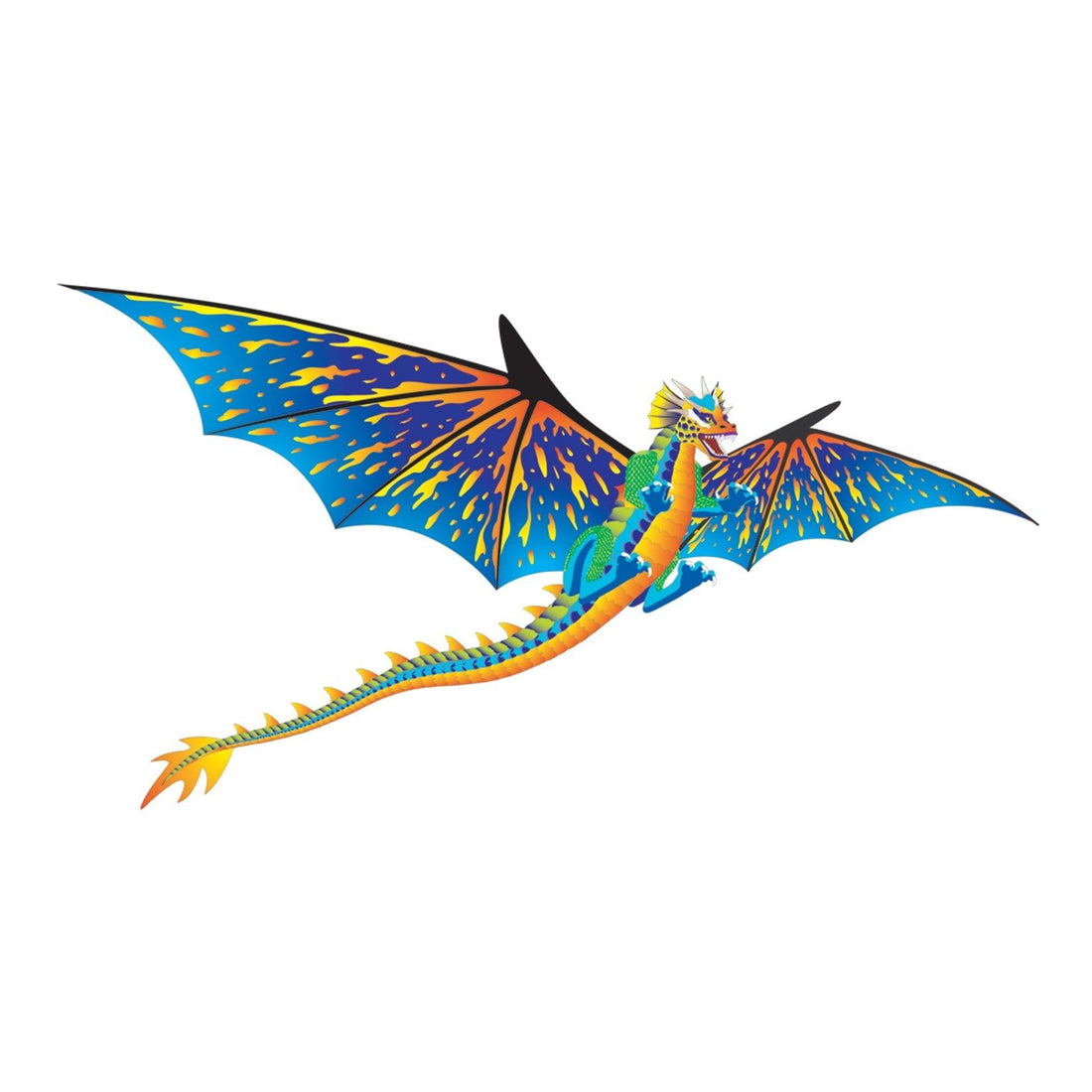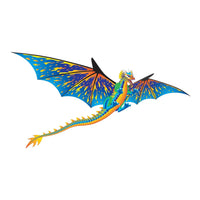 76" 3D Dragon Kite (Blue)
#1 Best Seller Five Years In A Row!
Ready-To-Fly Certified
This kite is considered "Ready-To-Fly" meaning that this kite contains everything you need to fly this kite including kite, tails, winder, & kite line.
Incredible 3D Design:
3D kites are, by far, some of the most impressive kites you can buy. This kite is no different. Our 76" Dragon kite features a sturdy 3D design and combines that with vibrant blue, yellow, and orange graphics to provide a truly impressive kite with exceptional flying ability.
Easy To Assemble:
You can probably assemble this thing with your eyes closed.. Well.. maybe with one eye open, but seriously, its really easy to put together. Insert 2 rods and clip the line on and you are pretty much done. 
Easy To Fly:
Once you have the kite set up, you simply hold it out and let it go. It should effortlessly lift into the air. There is no struggling running or physical activity involved. Just make sure the wind speed is in the wind range, and this kite will float effortlessly into the sky.
High Quality Materials: 
Featuring ripstop nylon sail material and strong/flexible fiberglass rods, this kite will be around for a while. 
This Dragon Kite has been the top selling kite in our store 5 years in a row. It is also one of our favorites at Pro Kites USA. Featuring a huge 76" wingspan as well as a 76" body, I tell you, this kite is BIG. This well balanced kite is easy to assemble (2 rods) and even easier to fly. You throw this thing to the wind and immediately jumps effortlessly into the sky. Lets face it, Dragons are awesome and the blue/orange/yellow design on this kite really pops in the sky. Despite its large size, this kite has little pull. Both kids & adults can have a great time with this kite. Everything needed to fly this kite is included in the package and this kite is "ready to fly". 
Skill Level: Beginner
Kite Size: 76" W x 76" H
Wind Range: 7 to 20 MPH
Material: Fade/Weather Resistant Ripstop Nylon
Frame: Fiberglass Rods
Includes: Kite Line and Line Winder.
Free Shipping on any order $79+
$6.99 Flate Rate Shipping on everything else.
Orders are shipped via UPS & USPS.
Most orders ship within 48 hours.
We ship Monday - Friday direct from our NJ based warehouse.
(No P.O. Boxes, please!)
Pro Kites USA™ is the leading provider of High-Quality Kites & Accessories online. In operation since 2014, we are extremely proud to have helped more than 75,000+ kite flyers new & old experience the simple joy of flying a kite.
76" 3D Dragon Kite (Blue)
Christmas Gift
We bought this for my Great Granddaughter for Christmas and we haven't given it to her yet
Gorgeous gift that made the holidays special
Love the blue dragon kite as it came in, I am so excited to share it with my nieces and nephew
Beautiful Kite for anyone!
This kite will be a blast to fly.I and giving it to a father who has flown small kites with his daughter. This will be another level for them.My son talks about a dragon kite we flew when he was a child..the wind was so strong it tore it in half and it flowed away.This kite is strong!! It will not tear, the strong rope we purchased with it will also be able to take on the wind.It will catch everyones eye!!
Easy to use
Loved it my 3 year old was able to fly it